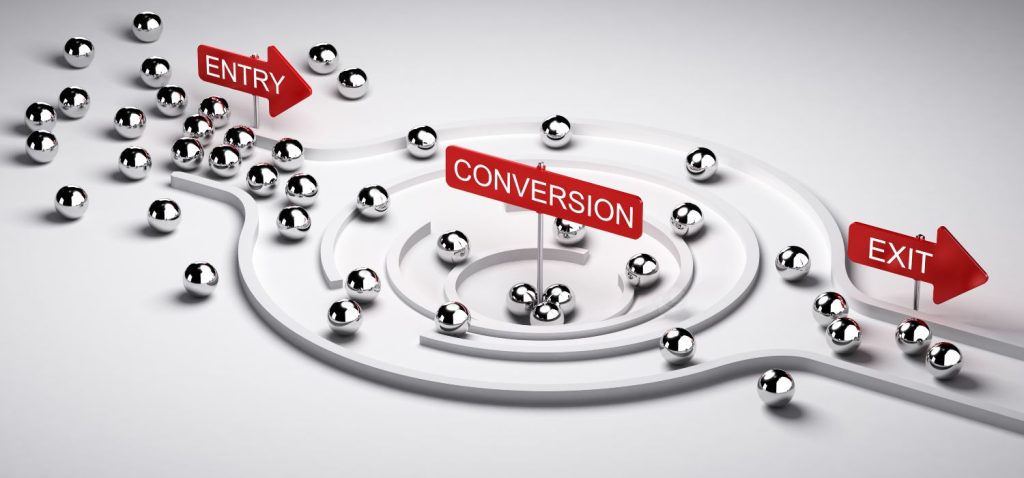 Many websites are struggling. Some do not get enough traffic, but even if they do, they still don't generate any significant revenue for their owners as they suffer from low conversion rates.
Successful business owners and executives invest in marketing to generate more qualified leads that convert into customers who then increase sales and revenue.
Regardless of which online channels you use, if you do not have an effective conversion process in place, you'll be fighting an uphill battle when it comes to increasing your business.
Difference between Conversion Rate Optimisation (CRO) and Conversion Marketing
While CRO is commonly seen as the continual improvement of the conversion rates of individual steps that already exist in a funnel through split-testing, Conversion Marketing Is the overall process of launching, personalising, and optimising campaigns on an ongoing basis in a way that boosts conversions at each stage of the funnel.
How does Conversion Marketing work?
Most marketing departments are familiar with the concept of building a funnel that moves prospects from one step to the next until they eventually become paying customers, repeat buyers, and, hopefully, brand advocates who refer new business to a company for many years to come.
For each stage of the funnel, companies using Conversion Marketing develop multiple types of campaigns targeting various visitor segments hoping to increase conversions from one step of the funnel to the next.
The Conversion Marketing Process
This process has five steps:
1. Invest in traffic
To get people to a website, there needs to be an initial investment to drive traffic to the site. This is usually achieved by doing paid advertising, search engine optimisation, social media marketing, co-marketing with channel partners, influencer marketing, etc.
2. Drive visitors
Traffic generation strategies should drive visitors to specific pages so the intent of the visitors is clear, and they can be prompted to take the next step.
3. Segment the audience
When people arrive on the desired page or website, it is possible use surveys, quizzes, and forms to segment the audience based on data that allows you to personalise the rest of the funnel and the marketing for them.
4. Capture leads
Once visitors are segmented, you can display personalised lead magnets, content, and offers to capture leads, instead of forcing all your visitors down the same path.
If you're already getting traffic to your website, combining visitor segmentation with personalised lead capture offers is the number one conversion strategy you can use to increase lead capture rates.
5. Convert customers
Once visitors become leads in your email service provider, you can start personalising your funnel, follow-up emails, marketing campaigns, and advertising campaigns that convert each contact segment into customers.
When personalising your marketing by contact segment, you can create highly targeted content and campaigns, which improve the effectiveness of all your marketing efforts.
You can also get a better understanding of the buying patterns of each segment, along with their sales cycles, and conversion rates.
Conversion marketing can also help to prioritise the campaigns you launch, which content you create, which ads you run, which emails you send, to which audiences, etc.
Getting Started with Conversion Marketing
You need leads and results, and planning out marketing campaigns, creating content, designing calls-to-action, landing pages, and optimising through split-testing, all take a significant amount of effort.
Perform A Conversion Audit
Understanding your conversion goals is vital to your conversion audit. It's important because the content of your audit needs to be focused on identifying ways to achieve these goals.
From Google Analytics reports, it's easier to identify conversion opportunities based on website traffic, how many visitors engage with their website, etc.
Define the website's visitor segments
To define visitor segments, ask the following questions:
Who are the buyer personas?
Which products are your customers interested in?
Are most of their visitors new or returning visitors?
Highlight visitor paths to conversion goals
Highlighting paths visitors take to achieve primary conversion goals, whether that's generating a lead or making a sale this can include which pages people visit before becoming a lead or purchasing a product, and in what order.
Optimise paths to conversion goals
Make a list of ideas for campaigns you can implement to improve conversion rates or
Launching Conversion Campaigns
If you want to boost website conversion rates and generate more leads and customers for your business, and your clients, your conversion campaigns need to command people's attention.
1. Who are you engaging?
Is the traffic coming from a Google search, the social media or an Ad?
Knowing which websites are referring visitors to your website allows you to deploy a campaign that's relevant to the referring site and to what people's intent might be when visiting your website.
When these visitors who are coming from a search engine land on your website, we can safely assume they need specific information, so they can take the next step. Therefore, you need to hook them with a call to action that guides them to the information they're looking for.
Another significant factor to consider when targeting visitors is recognising who the visitor is:
Are they a new visitor, or a returning visitor?
Are they a subscriber?
Are they already a customer or user of your product?
Knowing who is visiting your website helps you to personalise the call to action and show the right campaign to the right person. This means targeting visitors based on what's most relevant to who they are and what their current relationship is with your business.
If the person landing on your site is a new visitor, you may want to segment him by engaging him with a survey that collects data on him.
If the person on your website is already an email subscriber, then you might want to direct him to content or products that will help him move towards becoming a customer.
If the visitor is an existing lead in your CRM, maybe the hook you should show him is a call to action to schedule a consultation, join a webinar, or to talk with a sales rep who helps him buy your product or service?
If they are a free user of your product, you'll want to show him a hook with a call-to-action (offer) to start a trial of your full product or upgrade to a paid plan.
Knowing the type of people who are visiting your website is probably the most crucial factor in targeting them with a relevant hook that converts high and drives them to move to the next step in your funnel.
2. Why are you engaging these visitors?
You must be very clear in your objectives in your campaigns.
Many entrepreneurs and growing companies focus on gaining new customers rather than retaining existing ones. However, every company, including leading ones, should be aware that their existing website visitors are equally important.
3. What is your campaign message?
If you already have data on your visitors, such as the topics they're interested in, which products they've purchased, or are interested in buying it is easier to personalise the message to your visitors which is sure to lead to a better conversion rate.
4. Where are you going to engage visitors?
Many companies and experts hesitate to share their knowledge online, but concealing knowledge is not a wise strategy and the more you share you will be rewarded.
If you run a lead generation website, demonstrating your knowledge through guides and e-books increases your authority amongst your visitors. If you have an e-commerce website, and you take the time to put out custom product reviews, people will come to you both for advice and for buying products.
You must decide on which part of your website that you going to engage visitors. It could be:
When they first land on your homepage
While they're reading blog posts
When they're checking out a product page
When they're exploring your pricing page
5. When will you engage your website visitors?
The timing of your conversion campaign can have a significant impact on your conversion rates. For example, do not have the call-to-action as soon as a visitor lands on a web page, before they have a chance to get a feel for the content on the page.